Theme: IPM - bringing it together
The 8th Pests and Beneficials Review was held on 26 January 2023 at the Sophi Taylor Building, NIAB, Cambridge.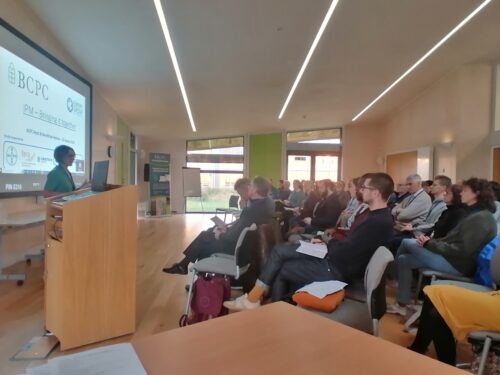 Presentations from the day are available below.
Programme
9.30 – Registration and Coffee
10.00 Welcome, Review Chairperson
 Susannah Bolton, SRUC
10.15 IPM R&D
An overview of Defra's involvement in current projects. – Holly Alpren, Pesticides ad Hazardous Waste Evidence Team,  Dr Holly Alpren, Defra
Click here to view presentation
10.40 Plant Breeding/Genetics for IPM
11.05 Examples in the field – Bean seed fly
Andrew Jukes, Warwick Crop Centre
Click here to view presentation
11.30 Coffee / comfort break
11.45 Getting the best out of biopesticides for IPM – what are the priorities for the future? – Dave Chandler, Warwick University
Presentation to follow
12.10 Discussion
12.30 PhD Poster Session
Short talks by PhD students on projects related to IPM.
13.00  Lunch
14.00 Examples in the field
Sugar beet – integrating BYV resistance, implications and impacts on IPM approach – Mark Stevens, BBRO
Presentation to Follow 9 February
14.25 Harnessing Nature for pests and diseases control in UK Top Fruit.
Nigel Jenner, Tree Fruit agronomist – Avalon Fresh
Click here to view presentation
14.50 Unintended consequences and risk assessment around IPM
Martyn Cox, Agronomist – Blackthorn Arable
Click here to view presentation
15.15 Review summary Chair
15.30 Close