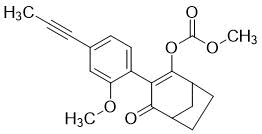 New actives for BCPC's global database
2nd October 2023
With a dedicated editor  and the online nature of the Pesticide Manual and the Compendium of Common Pesticide Names  both products will keep you abreast of all the essential data on new and existing pesticides. Below are the latest updates made in February.
Three new Active Ingredients have recently been added to BCPC's Online Pesticide Manual:
metproxybicyclone – a new diketone herbicide under development at Syngenta AG
sulfiflumin – a new acaricide and insecticide under development at Bayer CropScience
ACC (1-aminocyclopropanecarboxylic acid). A naturally occurring amino acid and the precursor to the plant hormone ethylene. The plant growth regulating properties of ACC, due to its conversion in situ to ethylene, have long been known. Registered in the USA in 2023 by Valent BioSciences Corp as a fruit thinning agent in apples.
To view previous updates – Click here
To access Online Pesticide Manual (subscribers only) – Click here
For further details and to subscribe – Click here
Back to Latest News