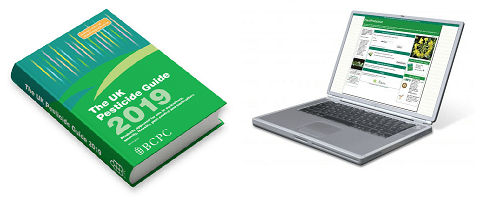 Important: New expiry dates, EAMUs & product approvals
24th April 2019
The European Union has recently decided not to renew the approval of chlorothalonil and all products containing chlorothalonil will be subject to a phased withdrawal. This will mean the loss of 92 products from the UKPG database and make the management of disease resistance much more difficult.
This is just one of a number of changes that have occurred since the publication of the UK Pesticide Gude 2019.  However, to ensure farmers, advisers and all those in the crop production sector are kept up to speed, BCPC's UKPG editor, Martin Lainsbury, maintains the Online UK Pesticide Guide with all these updates throughout the year.
The latest update to the online database includes expiry dates of numerous products updated, a number of new products added as PARs and 81 EAMUs updated or entered for the first time.
The most notable of the new product approvals are listed below:
• Prism (isopyrazam + prothioconazole) is a new mixture from Adama that is for control of cereal
diseases.
• Dimilin Flo (diflubenzuron) now approved for insect control in amenity vegetation, ornamental plant
production, hedgerows and forests where aerial application can be made on receipt of a permit from
CRD.
• Convisio One (foramsulfuron + thiencarbazone-methyl) which is the ALS herbicide mixture specifically
designed for use in ALS-resistant sugar beet has now gained approval.
• Evito T (fluoxastrobin + Tebuconazole) is a novel fungicide mixture from Arysta approved for disease
control in oilseed rape but is currently only listed as PAR until actual availability is confirmed by the
company.
• Chrysal AVB is a product for the prolongation of cut flower life. It is applied post-harvest and contains
the new active ingredient sodium silver thiosulphate.
• Emerger (aclonifen) is a new pre-emergence herbicide for broad-leaf and grass weed control in
potatoes.
To view all the latest updates visit the Online UK Pesticide Guide.
Already Registered – access here.
Not yet registered – click here for details
Every effort is made to ensure that the information in The UK Pesticide Guide Online is correct. The Editor and BCPC do not accept any liability for any error or omission in the content, or for any loss, damage or accident arising from the use of the products listed. Omission of a product does not necessarily mean that it is not approved or that it is unavailable It is essential that the instructions on the approved label are followed when handling, storing or using any pesticide product. Approved 'off-label; uses are undertaken entirely at the user's risk.
Back to Latest News