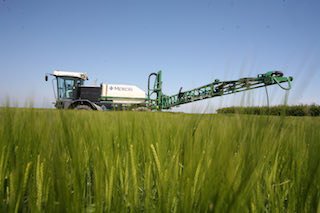 Make every drop count
21st November 2016
There are eight good reasons why spray operators, farmers and advisors need to make every spray droplet count.
Key changes to spraying legislation (e.g. ending of grandfather rights).
All sprayer operators to hold PA1 + PA2 certificates of competence
Compulsory testing of application equipment
Reduced availability of active ingredients
Growing resistance to pesticides
Increasing pressure on margins
Growing attention on the environment
Uncertainty over what Brexit may hold for cross compliance:
Fortunately, help is at hand with BCPC's latest, comprehensive handbook Field Scale Spraying which details the decisions and background needs for all spraying operations.
Revised by sprayer specialist Dr Paul Miller, the handbook is packed with practical tips and best practice advice in line with current regulations. It includes sections on the latest product labels, nozzle codes and risk assessments (LERAPs), as well as in-depth information on air induction and twin fluid nozzles.
"At the end of the day safe and effective spraying comes down to the skill and expertise of the sprayer operator," says Dr Miller. "Whether you are new to spraying or an old hand, this new handbook provides all the practical guidance needed for field spraying operations with advice on best practice, risk assessment, buffer zones, sprayer decontamination and maintenance."
This user handbook, which is supported by the Voluntary Initiative, is a valuable aid to anyone involved in field spraying operations. Given the cost of spraying equipment and product, £12 for the Field Scale Spraying handbook, from the independent charity BCPC, is sound investment making every droplet pay.
Field Scale Spraying (ISBN978-1-901396-89-8) is available priced £12 from BCPC Publications Sales, 7 Omni Business Centre, Omega Park, Alton, Hampshire, GU34 2QD Tel: +44(0) 1420 593 200 email: publications@bcpc.org. Orders can also be made via a secure server on the BCPC website at www.bcpc.org
Back to Latest News