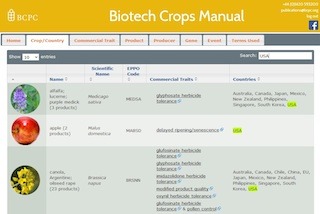 BCPC launches new Biotech Crops Info service
18th March 2015
With growing concerns about food security and the need to feed an expanding world population, the use of crops with novel traits has massive potential. This relatively new and  complex science is developing rapidly across the world and it is important that there is an impartial, reliable and current data source.
To help meet this need, BCPC has launched a new service, Biotech Crops Info.
"As well as conventional genetic modification technology, there are other ways that novel traits are being introduced into crops, such as genome editing, gene suppression and other advanced breeding techniques," explains Martin Lainsbury, editor of the Biotech Crops Manual. "The Manual has been developed to include all of these. Rapid growth in this sector means that an online service is the best way to provide comprehensive and up-to-date information on globally available GM products, novel traits and genome editing."
Targeted at anyone involved – or interested – in plant breeding, crop production, agronomy and biotechnology, Biotech Crops Info is available for an introductory 6-month or 12-month subscription.
CLICK HERE FOR SUBSCRIPTION DETAILS
The three-tier service comprises:
Biotech Crops Manual– a searchable database – currently containing over 1,000 crops, traits and events available in global markets, with frequent updates to reflect the rapid growth in the sector
Biotech Crops Monthly Report – an editorial report of the latest GM and novel traits developments worldwide, via email
Biotech Crops Weekly Update– providing links to the latest plant breeding and genetics news.
"Like BCPC's authoritative Pesticide Manual and Manual of Biocontrol Agents, the Biotech Crops Manual provides an in-depth search facility. Users can select by crop, country, trait, product, producer, gene and event code. Most importantly, they can find out the global approvals, where the event can be grown and the uses it is approved for. Users can search the database and select a crop variety that not only combats the pests and diseases they wish to avoid, but also that is approved for their intended market, such as food or just feed use," advises Mr Lainsbury.
For immediate access to Biotech Crops Info visit bcpcdata.com/btc or contact: BCPC Publications Sales, 7 Omni Business Centre, Omega Park, Alton, Hampshire, GU34 2QD UK. Tel: +44 (0) 1420 593 200 Email: publications@bcpc.org.
Back to Latest News