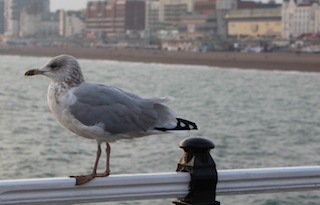 BCPC Congress 2015: Be an early bird
16th February 2015
An early bird delegate rate for this year's BCPC Congress, which takes place at the Hilton Metropole, Brighton, UK on 6-7 October 2015, is running until 1 April. Organised by BCPC (the British Crop Production Council), in association with TSGE Forum, the upbeat Congress theme will be "A Positive Outlook for the Regulation of Pesticides in Europe?".
"As well as offering presentations on the existing regulatory environment for pesticides in Europe, this year's BCPC Congress will deliver insight, context and forecasting on delivering and maintaining EU pesticide registrations in an increasingly demanding public and political environment," says Dr Colin Ruscoe, Chairman, BCPC. "Following the re-launch of the Congress two years ago, we have been delighted by the positive response from delegates and interest in the Congress' focus on the demanding and ever-changing area of regulation in crop protection and crop production."
With headline presentations from Professor Tim Benton, UK Champion for Global Food Security & Prof. of Population Ecology, and Matina Tsalavouta, Head of Communications, Rothamsted Research, already in place, delegates will be assured of a highly informative two days of knowledge-gathering and networking.
Many other speakers have already been confirmed and the programme will include a blend of regulatory, technical and policy topics covering:
The current status of the EU regulatory system and how it can be improved;
The Water Framework Directive, and current human and environmental health highlights, including endocrine disruption and neonicotinoids;
Other topics, such as the rise of biostimulants, reducing the impact of regulation on the horticultural sector and progress in risk mitigation and product stewardship.
"The BCPC Congress 2015 will build on the popular format and growth over the last two years," says Dr. Ruscoe. "We are targeting more speakers and attendees from the EU regulatory community, including EU authorities, manufacturers, formulators, retail and service companies."
Delegate registration is now open – www.bcpccongress.org/register. Full details of the event can be found on the Congress website at: www.bcpccongress.org or email: TSGE Forum at enquiries@tsgeforum.com.
Back to Latest News