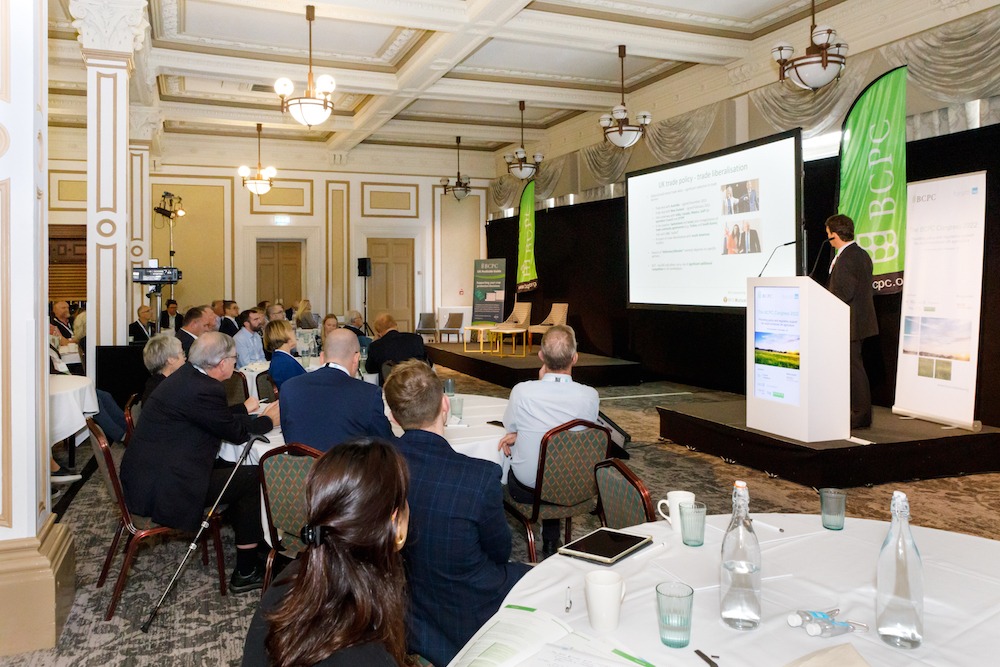 BCPC Congress 2022 – gives insight into the future of UK Agriculture
13th December 2022
This year's BCPC Congress, organised by TSG Forum and BCPC, returned to Harrogate on 7 and 8 November, and was attended by over 130 participants. Addressing the theme of 'Providing policy and regulatory support for multi-functional UK agriculture' the speakers – some presenting to the delegates on-line – delivered informative, thought-provoking and at times controversial presentations covering a range of issues.
"We are delighted that the Congress has again attracted such positive interest. The programme enabled us to deliver a great mix of authoritative speakers,", said BCPC's General Manager, Julian Westaway. "Analysing the two days, there were key themes which were repeated throughout, namely agricultural policy, land-use and food security, future pesticide regulation in the UK, current pesticide regulatory issues, possible changes to pesticide management, current and future challenges to pesticide use."
Chairing the plenary session was Tony Pexton, farmer and member of BCPC's Advisory Board. He then handed over to Dr Roslyn Henry who was speaking on-line from the University of Aberdeen. She considered the potential implications of biodiversity initiatives on global food production pointing out that wildlife population rates had declined by a staggering 69% since 1970. She said that there needed to be a better balance between conservation and agriculture with an area-based conservation plan to protect and boost biodiversity. She highlighted that current global biodiversity targets compromise future food production, particularly where land sharing rather than land sparing high yield farming is adopted.
Laurent Oger from CropLife Europe provided an assessment of the EU's Farm to Fork strategy. The current policy equates to a shift in the agricultural mindset to make the EU food supply chain more sustainable but he highlighted tough targets had been set by the Commission. These measures are predicted to impact with EU production by 12% whilst prices will go up by 10%. Outside the EU similar ambitious sustainability targets are included in all bilateral trade agreements.
Jonathan Baker, Defra gave a broad-brush view of future land use with the challenges of sustaining UK food security, meeting the country's net zero targets and improving natural assets. He then outlined the framework that needs to sit behind this to support farmers in achieving these goals.
NFU's Nick von Westenholz picked up on the issue of international trade, providing an excellent assessment of the likely impact of the ever-changing geopolitical issues and international trade on UK arable crop production and food security. He highlighted the pressures facing agriculture including: fertiliser prices and supply, energy prices, post-Brexit trade deals and regulatory reform.
The Congress then split into two concurrent streams. Stream A, on regulatory affairs looked at developments in regulating active substances, an industry view on plant protection product (PPP) regime and enforcement developments and challenges.  Stream B focussed on the progress in pest, diseases and weed control with reports from BCPC's three annual Expert Reviews and rounded off with a fascinating talk on regenerative farming by Mark Hall MKH Farming who juggles a position as Head of Sustainability at Syngenta with managing a 300ha arable farm using a regenerative approach.
The final morning focussed on the current regulatory issues for UK crop protection. Dave Bench, of CropLife UK pointed out that growers need a wide range of tools. They need the best current information and how to develop new approaches to best grow our food. He also felt that the UK has one of the worst regulatory environments in the developed world. Currently, it is a difficult place to maintain substances and products on the market largely due to post-Brexit uncertainty and unpredictability.
Janet Williams from Bayer Crop Science went on to look at the position of glyphosate in the global market while Iain Watt of TSG Consulting, covered the registration of natural substances as plant protection products. Concluding the morning session Phil Jarvis of the Voluntary Initiative looked at the importance of protecting water. This was followed by Rachel Irving from Defra who looked at the future role of integrated pest management (IPM) and how to measure progress in adoption.
The Congress ended with the traditional Chemicals Regulation Division (CRD) session including a workshop on risk assessment and risk mitigation enabling delegate participation. The opening talk was by Dr Richard Daniels who heads CRD, a division of HSE.   He described the expansion of staff numbers and plans to provide efficient post-Brexit regulation.
"One of the key aspects of the Congress is to provide a forum for networking and the vibe over the two days demonstrated that delegates found this a key benefit to their attendance. We plan to be back next year in Harrogate, located in the centre of regulatory activity in the UK, and we look forward to welcoming delegates on 7-8 November 2023, so book that date in your diaries now," concluded Julian Westaway.
Back to Latest News