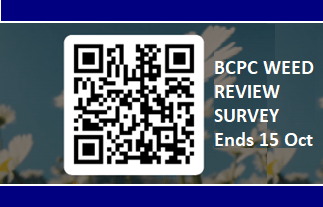 Weed control survey – ends 15 October
14th September 2023
The 2023 BCPC Weeds Review marks 60 years of sharing experiences of weed control challenges and successes. To highlight this landmark, the organisers have asked some speakers to explore influences, changes and successes over the past 60 years which will also inform future needs.
Please find about 10 minutes to provide your experiences on weed control in your career to date, and to help highlight emerging priorities. The survey (which may be shared with colleagues) will be open until 15 October and is accessible via the ONLINE SURVEY LINK or by scanning the QR code below. It is suitable PCs and mobile devices. Thank you.

We welcome your reflections in this. The survey outcomes will provide a topic of discussion at the BCPC Weeds Review on 2 November.
Back to Latest News