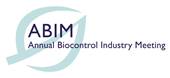 9th Annual Biocontrol Industry Meeting (ABIM)
The 9th Annual Biocontrol Industry Meeting takes place in Basel, Switzerland on 20-22 October 2014
Early bird registration
Early bird registration is open until 31 July 2014:
Early registration for IBMA members at special reduced rate until 31 July 2014: CHF 370.-
Early registration for all other participants until 31 July 2014: CHF 410.-
Online registration after 31 July – 10 October 2014 for all participants: CHF 450.-
Call for oral presentations open until 20 June 2014
ABIM provides you with a unique opportunity to present latest results on your innovative products. Submit your proposed presentation title before 20 June 2014 to the programme committee.
Registration of booths and posters open until 15 August 2014
The exhibition takes place in the centerpiece of the congress venue and offers excellent opportunities to present your company. A range of sizes is available for booking.
For further infomation visit the ABIM website at www.abim.ch
Further Information
For further information contact:
David Cary
david.cary@ibma-global.org